Woven polypropylene fabrics
We can supply polypropylene fabrics in FLAT and CIRCULAR (TUBULAR) construction for converting into packaging, sheltering and covering products. Technical parameters could be customized to suite wide range of applications.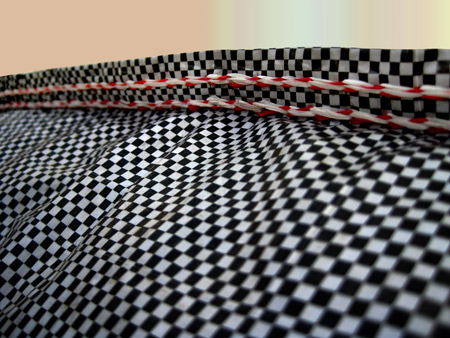 We can also supply Polypropylene fabrics extruded with reverse printed BOPP film in ROLL for converting application VERTICLE BACK SEAM bag on tuber machine.
*Note: This sample arrangement is for visualization purpose on only. Actual arrangement could be vary based on customer requirement.
Application:
Polypropylene Bags of various sizes 
Sand bag
Converting into Vertical Back seam bag on Tuber
Circular FIBC (from Circular (Tubular) fabric)
U-Panel FIBC (from Flat (open) fabric)
Lumber warp
Dunnage bag
Tarpaulin
Paper Reinforcing
Ground Cover
Turf Protection
Haystack Covers
Irrigation Liners
Pond Liners
Poultry Houses
Grain Covers
Roofing Underlay
Liners
Landfill Covers
Landfill Caps
House wrap
Horticultural Weed Suppressant Fabric
Technical Parameters:
| | |
| --- | --- |
| Material | Polypropylene (PP) / High Density Polyethylene (HDPE) |
| Fabric Weave (Mesh) | 5x5 to 14x14 per sq. in. |
| Tape Width | 2.5 mm is our standard width which could be customized as per requirement |
| Tape Denier | 500 Denier to 2000 Denier |
| Fabric width | As per requirement |
| Fabric Color | Natural, Milky or Colored. Identification strips are also possible |
| Printing | 4 color Flexo print |
| Additional Features | UV Stabilizer, Anti-slip coating, Micro-perforation, Vent strip, Liners |
| Lamination | Coated/Uncoated |
---