BOPP Bag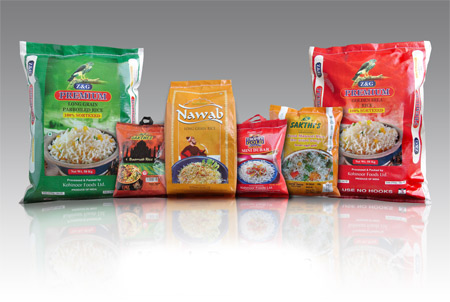 BOPP (Bi-axially Oriented Polypropylene) is a polypropylene film that has been stretched in both the machine and cross directions. The BOPP film is printed on reverse side and then extrusion laminated with woven polypropylene fabric. Polypropylene bag with laminated Bopp film is recent development on woven poly bags. We are supplying both type of construction, Back seam and Tubular (Circular) type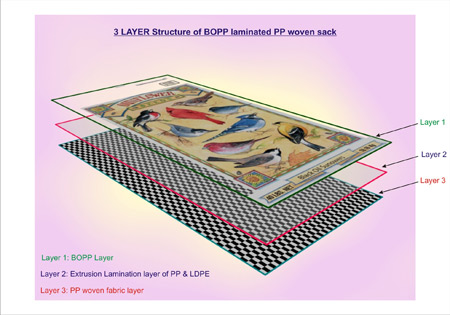 With state of the art 9 color high quality photographic printing it offers excellent shelf appeal while maintaining unmatched strength and durability of regular polypropylene bags. It is very cost effective way of packaging retail products compere to regular multi color paper sack. It also saves product loss during transportation and storage occurred in paper sack.
BOPP bags and regular polypropylene bags are compatible with automatic filling equipment used for multiwall paper bag.
Because of its Cost effectiveness, Strength, Better shelf appeal, compatibility with existing auto filling machinery woven BOPP bags are gaining popularity over multiwall paper sack.  
Benefits:
100% Recyclable
Excellent shelf appeal for better brand promotion
Wide range of size options for 10 to 110 Lbs. (5 Kg to 50 Kg) packaging
High impact Gloss finish. 
Anti-slip finish is also possible for better stacking 
Environment friendly, use lesser natural resources in manufacturing, transportation and recycling
High tensile Strength, Puncture and tear resistance. Save considerable product loss 
Weigh less than paper bag, saves freight cost
Need less space, saves warehousing cost.
Better resistant to moisture
Widely accepted all over  world
Weather resistant and UV Stabilized for exterior storage and usage
Additional Features:
Handle for easy carriage
EZ-Open closure
SOM construction
Micro Perforation
Thumb notch
Shifted Gusset for Tubular (Circular) construction bag
Anti-slip BOPP film for high stacking
Application:
Animal food & Nutrition: Pet food, Animal Feed, Specialty Minerals   
Agricultural Products: Seed, Grain, Pulses, Beans, Fertilizer & Chemical
Food: Salt, Sugar, Flour, Starch, Food Additives, Spices
Alloys & Mineral: Ferroalloys, Stones, Gravel, Cement
Plastics: Resin, Granules
Consumer Packaging: Tea, Coffee, Packaged food
---