FIBCs (Jumbo/Bulk Bag)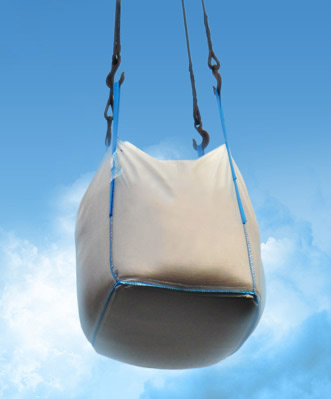 FIBC – flexible intermediate bulk container (big-bag, bulk bag) is the most progressive type of package for transporting any kind of bulk goods, lump and packed materials and even liquids.
The benefits of using FIBCs are connected not only with its low price (compared to other types of package), but also with the following factors:
offering a low package:product weight ratio (1:1000);
leak-proof package;
easy filling, discharging and transporting in assistance with comprehensive mechanization;
mildly hazardous (2-5 class) and aggressive loads transportation by common means of transport is possible;
suitable for foodstuffs transporting.
In this connection, FIBCs increase the competitive advantages of the company, that is why the annual container consumption in Russia and all over the world experience the fast grow.
Although made from woven polypropylene, FIBCs employ varying fabrics and fabric weights depending on container strength and factors of safety.
Features:
Recyclable, bags made from single resin are 100% Recyclable
Reusable
Various construction style available, Circular, U Panel & Baffle
Construction parameters can be changed as per customer requirement including, Size, Fabric, Color, Filling and Discharge spouts, Lifting Hooks
Coated/Uncoated fabrics as per requirement
Vented fabrics for air permissibility
UV treated fabric
Anti-static fabrics
Virgin polypropylene resin for Food and Pharma application
Specialized liners for moisture protraction
  
The ability to create design changes for intake or discharge outlets, liners and handling straps easily in addition to elimmination of the costly pallet system os shipping, handling and storage makes FIBCs the obvious choice for many handlers of dry bulk material.
Application:
Chemicals: Covers a multitude od industries
Animal food & Nutrition: Pet food, Animal Feed, Specialty Minerals   
Agricultural Products: Seed, Grain, Pulses, Fertilizer, Wood pellets
Food: Salt, Sugar, Flour, Starch, Food Additives, Spices
Alloys & Mineral: Ferroalloys, Stones, Gravel, Cement, Clay, Lime, Powdered Metals, Rubber, Carbon Black
Plastics: Resin, Granules
Consumer Packaging: Tea, Coffee, Packaged food
---